Water is a big problem in some regions of USA because of a lack of lakes and water treatment related with conservation rules. So it is quite frequent for a lot of houses to have a water well.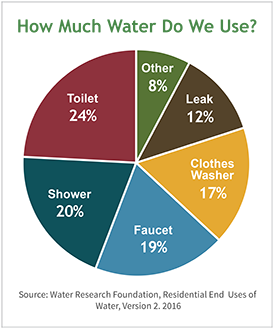 Many people underestimate the amount of water they use. Here you have some interesting numbers related with that:
Dishwasher

: can use up to 16 gallons of water per cycle (old models). EnergyStar ® models use 6 gallons or less per wash cycle and also save electricity.

Shower

: A low-flow shower-head uses about two gallons a minute, or 20 gallons for a 10-minute shower. A standard shower-head uses 2.5 gallons a minute, or 25 gallons for 10 minutes.

Toilet

: water use can vary significantly. Older toilets can use 3.5, 5, or even up to 7 gallons of water with every flush. Federal plumbing standards now specify that new toilets can only use up to 1.6 gallons per flush (GPF), and there are high efficiency toilets that use up to 1.28 GPF.
In Massachusetts the estimated average of water use per person per day is around 75 gallons. For a family of 4 they have to be prepared to use 300 gallons per day of water (if you don't have a large garden with an irrigation system).
Think about these numbers if you are installing a new well in your house.