This decision is an important one when building a new house: how can you manage the costs if you decide not to use a water heater fuel as natural gas or oil. If you decide that your house will have an electric water heater the increase in your monthly bills can drive you crazy, believe me.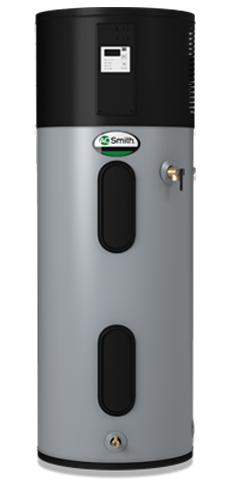 First of all, you have to look for Energy Star systems, that can save you money because they have different functions. The Voltex® Hybrid Electric Heat Pump, for example (A.O.Smith) reduces water heating cost by up to 58% through an innovative design that pulls environmental heat while dehumidifying and cooling the ambient air at the same time.
It delivers good savings by generating heat through the heat pump technology instead of the heating elements. These tanks also offers user-friendly display, vacation mode to save money while you are away, and a heavy duty anode that protects your tank for 10 years. this model also has two heating elements that help the water heater recover quickly during periods of high demand. The tank has a 80-gal capacity, pretty nice number if you like to use your tub frequently.
If you are thinking about take advantage of the new solar panel credit program available by the government this can also help you in terms of electrical bill costs. Between financing and incentives, customers are usually cash-flow positive in their first year, and the system itself can be paid off after 3-5 years on average (depending on a lot of factors, of course – some some systems only break-even after 10 year, be aware of that).
Massachusetts has one of the strongest solar incentive programs in the country. In addition, federal tax credits and low-interest solar loans contribute to a positive cash flow. You can also sell some energy in the market, and have positive incomes that helps you decrease your bill expenses.